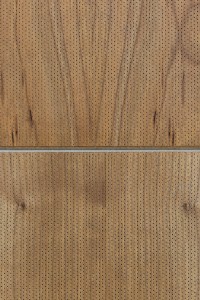 A purpose-built university campus in the United Arab Emirates was heralded as a milestone for the country's education sector – and the high-quality design reflects its significance.
For the eye-catching atrium at the flagship campus of Amity University in Dubai, interior design specialists IR Design specified Hunter Douglas Architectural's new range of wooden ceiling and wall systems with nano-perforations.
The wood veneer panels contain countless microscopic perforations, which are hardly visible to the naked eye, being only 0.5mm in diameter, and provide superior absorption qualities up to αw: 0.95, NRC: 0.90 and SAA: 0.90.
Hunter Douglas provided 1800m2 of cherry veneer and such was the exacting design detail that it was necessary to ensure the direction of the wood grain and the veneer matched perfectly on each 1200mm x 600mm panel. The design also meant that the panel sizes were adapted to accommodate the light fixtures.
The panels are made from a 16mm MDF board, a black acoustic membrane and a top layer of 0.5mm wood veneer. Microscopic perforations are punched into the top layer and the MDF has larger – hidden – perforations of up to 12mm in diameter.