Linear Veneered Wood Walls from Hunter Douglas are environmentally friendly, stable, beautiful and create new design possibilities in a building. Selected by professional interior designers due to the natural look of the wooden wall panels, which bring peace, happiness and joy to a range of projects.
The Veneered Wood Linear Walls system gives you the freedom to create natural-looking wall designs, which include natural growth patterns of each tree, which can be clearly seen in the veneer. This is including natural characteristics like outgrowth and knots.
With 40 different light and dark veneer tones to choose from there is a wide choice of options to create the ideal ambiance and feeling. The panels are standard provided with a transparent lacquer, but if you are looking for a special look, varnishes, staining or paint finishes can be chosen.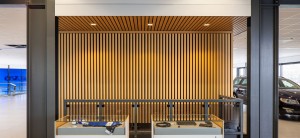 The Veneered Wood Wall panels are 17mm thick and available in lengths up to 2780mm. Different panel widths, finishes and perforations can be combined to give your project a personal touch. The walls also perform well acoustically. Delivering outstanding comfort, acoustic performance, and an aesthetically pleasing appearance.
For more information please click here.